Paid Time Off (PTO) described here is available to non-union hourly associates in a corporate or division office.
Non-union associates in stores, distribution centers and manufacturing plants will continue on their current vacation/PTO programs. Questions about current vacation/PTO programs should be referred to your local HR representative.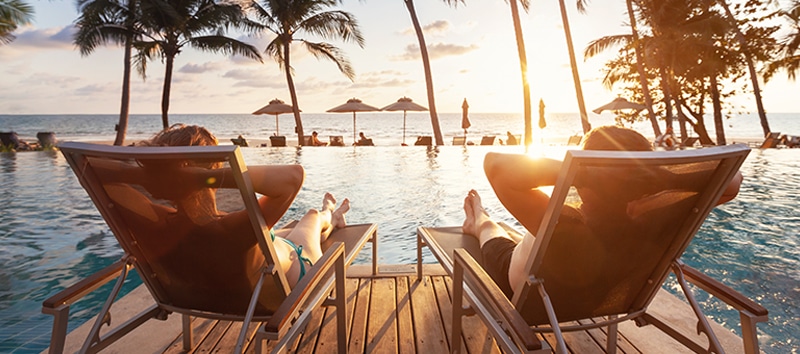 How PTO works
Starting January 1, 2022, eligible non-union hourly corporate and division office associates accrue (earn) PTO based on the hours worked each pay period (up to a maximum of 40) and the associate's length of service with the Company. In addition, you accrue PTO while on PTO. The maximum annual amount of PTO you can accrue at any time is 216 hours (27 days). Your request to take PTO is subject to your manager's approval who will consider business needs, departmental coverage, and your deliverables.
PTO can be used in hourly increments for any of the following reasons:
Vacation
Personal time
Celebrate a holiday the Company does not officially observe
When you are sick, injured or receiving medical care or treatment and you are out of sick time
When you are caring for a family member who is sick, injured or receiving medical care or treatment and you are out of sick time
To extend bereavement time off beyond five days
To get paid while on an approved unpaid leave of absence
Accruing PTO
New hires begin accruing PTO and can use PTO from date of hire. The amount of PTO a full-time hourly associate earns each year is shown in the table below.
| Years of Service | Annual PTO Accrual |
| --- | --- |
| 0-4 | 96 hours (12 days) |
| 5-9 | 136 hours (17 days) |
| 10-14 | 160 hours (20 days) |
| 15-19 | 176 hours (22 days) |
| 20+ | 216 hours (27 days) |

You become eligible to earn additional PTO hours on your 5th, 10th, 15th and 20th work anniversary dates.
PTO accruals for part-time associates
Part-time associates working less than 40 hours per week earn PTO on a pro-rated basis. You must work a minimum of 15 hours in a week for the hours to be eligible to earn a PTO accrual. If you work less than 15 hours in a week, hours worked will not be eligible to earn a PTO accrual.

PTO carryover limits
Beginning in 01/01/2023, the carryover limit is 40 hours from prior year unless otherwise provided by state law. In states, like CA, the accrual will be capped at 1.5x the annual PTO accrual.
EXAMPLE: PTO carryover limit reached (non-CA associate)
Click on the thumbnail image below to see an example of how unused vacation or PTO will carry over as your starting balance in the new harmonized PTO on 01/01/22 and on 01/01/2023.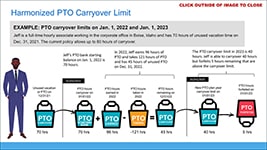 EXAMPLE: PTO annual accrual limit reached (CA associate)
Click on the thumbnail image below to see an example of how PTO accruals for a non-union California hourly associate in a corporate or division office will stop once you reach 1.5 times your annual PTO accrual rate.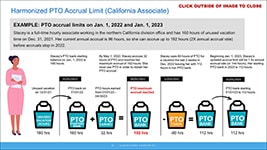 Requesting PTO
When requesting PTO, please give your manager as much notice as possible. All planned PTO is subject to manager approval. After notifying your manager, enter your request on myACI. Go to myACI > My HR > My Time Away > select "Request Absence."
Borrowing PTO
If you do not have enough PTO hours earned to cover a request for time off, you may borrow up to 40 hours of PTO (or less if the number of PTO hours you will accrue between the date PTO is borrowed and the end of the accrual period in the current calendar year (mid-December) is less than 40 hours) with your manager's approval. When you borrow PTO hours, you are borrowing from your future PTO accruals. Your accrued PTO will have a negative balance until the PTO hours you borrowed are paid off with future PTO accruals.
If you terminate employment with a negative PTO balance, the PTO hours must be paid back on your termination date.
PTO more information
For more information on PTO, refer to the Time Off FAQs.