Teladoc is the telemedicine provider for Blue Cross of Idaho members with coverage for non-emergency medical conditions, mental/emotional health, dermatology and nutrition. Click here for telemedicine options for Kaiser members.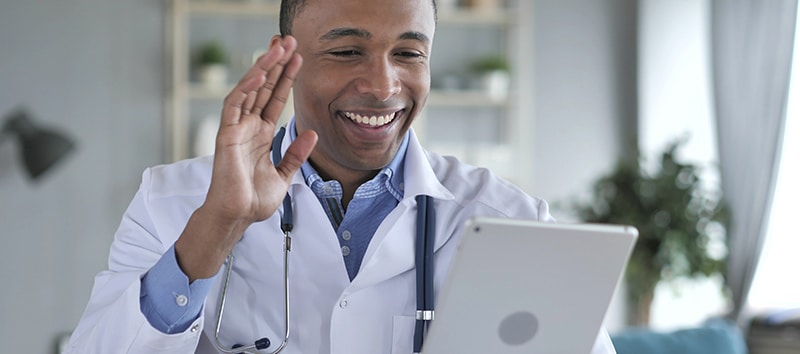 Teladoc doctors are available to help you and your family feel better while traveling, at work or at home—day or night. They can resolve many of your non-emergency medical issues via phone or video consultation. A Teladoc doctor can also send prescriptions to your nearest pharmacy if needed.
In addition to general medical services, Teladoc providers are available to help care for your mental/emotional health, dermatology and nutrition needs.
General Medical
Talk to a doctor 24/7 for non-emergency conditions such as flu, sinus infections, allergies, sore throats, coughs, COVID-19 advice and more.

Cost: $20 copay per visit
Mental/Emotional Health
Talk to a therapist or psychiatrist of your choice 7 days a week from anywhere for stress, anxiety, depression, trauma, grief, burnout and more.
Cost: $20 copay per visit
Dermatology
Upload images and details of a skin issue in the Teladoc app. A dermatologist will review them and provide a treatment plan within 24 hours or less for acne, psoriasis, rashes, rosacea, eczema, skin infections, moles and skin spots.

Cost: $20 copay per visit

Nutrition
Talk to a registered dietitian for weight management, digestive issues, special diets, food allergies, custom meal plan and more.

Cost: $20 copay per visit

Get started with Teladoc
You have 3 ways to set up your account:
Go to Teladoc.com
Download the Teladoc mobile app from the App Store or Google Play
Call 1-800-TELADOC (835-2362)
Virtual visits with your PCP
Certain healthcare providers offer virtual visits as part of their clinical practice. If you have an appointment with your primary care physician or another member of your care team by phone or video, that visit is covered under the medical plan just like an in-person visit, subject to your standard copay or coinsurance and deductible.